Ciudin et al JOURNAL OF ENDOUROLOGY
Volume 28, Number 8, August 2014
Mary Ann Liebert, Inc.
Pp. 1016–1021
Dr Jim Lingeman sent along a PDF of this article, which seems so useful and so germane to our current posts I decided to write about it.
WHAT THE AUTHORS DID
They Identified People with Prior CT Scans
They did a cohort followup study of an initial 1000 people who had an CT performed between January and March 2005. From the 1000, 576 fulfilled their initial inclusion criteria which included that the CT was not performed for stone disease. Of these 177 were lost to followup leaving 362 study patients.
They Measured Radiological Papillary Density
In each of these 362 cases, papillary radiographic density was estimated by 'placing regions of interest (ROIs) with a mean size of 0.1 cm2 over the tip of the papilla'. The large featured image shows their technique. Attenuation was measured in the most easily identified papillum of each of the upper, middle and lower poles of each kidney making a total of 6 measurements for each patient. The means were calculated for each kidney and used in the final analysis.
They Determined Which Had Become Stone Formers
For all 362 cases stone onset was determined by CT (10) or ultrasound (2) – with confirmation of calcium stone via abdominal flat plate density. Stones were >600 HU. Of the total of 12 with stones 7 were symptomatic.
They Compared Papillary Density of those Without and With New Stones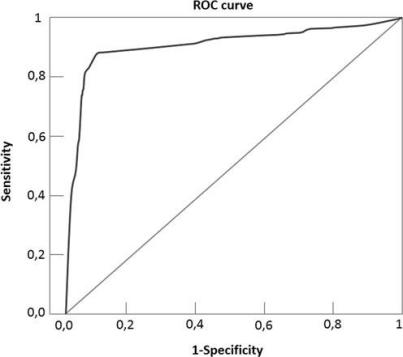 Mean density was 47.2 vs. 35.5 HU, p<0.003 for those with vs. those without new stone onset. The cut point of 43 HU best discriminated the two groups. Use of 1 mm slices did not confer an advantage over 5 mm slices. The ROC curve (Figure to the left) shows an impressive deviation from chance.
What I Think
The results do support the plaque stone pathogenesis theory
Just as the authors say, this finding would be a prediction of the plaque theory of stone genesis, and so a positive results is supportive. But the real prediction is not tested here. Plaque pathogenesis concerns calcium oxalate stones whereas these were 'calcium' stones as inferred from radiography. On the other hand, calcium oxalate is indeed the most common stone and these people were stone free by CT scan at the beginning of the observation, so first onset stone is most likely calcium oxalate. Higher CT density is not identical to plaque, either, but it is hard to deny that density differences might well be from tissue crystal deposits.
The results have clinical value
Having read many stone CT images, I cannot wait to image papillae and get HU values; it is not hard to do this, but up until now I would not have taken the time. Of course, you have to image in stone free areas, but that is usually possible. Because the papillary densities within kidneys were rather uniform, one can hunt for the stone free papillae and use them. The value is indeed in predicting who has a lot plaque – by inference, of course – and is therefore at especially high risk of new stones. I am not much taken by the idea of primary prevention in people who have CT images for other than stone and exhibit papillary densities above 43 HU; stone prevention is hard to accomplish in even frequent stone formers, at least I find it so. Even the habit of persistent high water intake seems an unlikely goal in symptomless people who have never had a stone.
The plaque hypothesis has other clinical values the authors do not acknowledge
Because the stone base for overgrowths in plaque has thus far been hydroxyapatite clinical management of calcium phosphate supersaturation seems as important as that for calcium oxalate. This is relevant in that physicians can pay attention to both supersaturation. In using potassium citrate salts, it may well be important not to raise CaP supersaturation. In the modern flexible ureteroscopy (URS) era, urologists will more and more often see plaque on papillae, and estimate it visually. Such estimates cannot be so common as CT but can corroborate CT estimates. LIkewise, tiny stones on plaque that CT cannot resolve are seen via URS.
What might be done next
The clearest experiment would be direct comparison of papillary density with URS findings in patients who have both modalities. Given the high rate of URS and CT such comparison studies are easy to envision. The experiment is important because it could falsify the present work, so it should be done, and perhaps by several surgical groups.
THANKS TO THE AUTHORS AND JIM LINGEMAN

Since we are presently focusing on plaque stone formation, this article is really helpful. If Jim had not sent it, I would never have seen the work. I think this research deserves follow up experiments, and serious clinical attention.
Fred Coe